Free!
Typity makes remembering easy
Take notes and organize thoughts wherever you are
Super easy intuitive note taking & planning
Organize your past, present, and future
You'll Love It
Designed with love to be easy and fast
Works Everywhere
Mac, PC, Android, iPhone, iPad, whatever!
Free (really!)
Create a free account and start organizing your life.
Features
Rich or Plaintext
Easily style & format your notes at the click of a button or choose text only


Categories
Organize notes in nestable cagegories fast with drag-n-drop


Boards
View & edit multiple notes on-screen with boards


SMS Support
Append to or view notes via text messaging for super fast notes


Sharing
Share with one or multiple friends to view or edit


Client-side Encryption
Encrypt notes in your browser for utmost security with AES256


Style note titles
Make note titles bold or italic in the note list so they stand out


Mobile Support
Works great on the go with mobile support


Mobile Friendly
Take notes anywhere on your mobile device or tablet


Search
Quickly find notes by searching their title and/or content


Revision History
Easily view & roll back to previous note versions


Export Notes
No lock-in. Easily download a zip file containing all your notes


Every device. Every browser.
Works on any desktop, mobile phone, laptop, or tablet.
Select "Add to Homescreen" in your mobile browser to install as an app.


Use Cases
Jot Down Thoughts
Quickly write down thoughts and ideas that pop into your mind so you don't forget them. From home improvements ideas to todo lists to ideas for your next novel.


Grocery Lists
Add items to your grocery list throughout the week so you know what to grab next time you're at the store. Share your grocery list with your family or roommates so everyone can easily add things they need picked up.


Pet Health History
Keep an organized list of dates and ailments, shots, suspicious changes or treatments for your pet so you can have a complete history to reference. This is a great way to have a detailed timeline of events.


Dear Diary
Journal your life's day-to-day story. Express your emotions and treasure experiences that you can look back on in the years to come.


Gym Progress
Keep track of your physical activity so you can track progress over time. Track exercises, reps, sets, weight, or anything else you like. Stay motivated by seeing how far you've come!


Track Favorites
Keep track of which foods you've tried and liked at various restaurants or the grocery store, favorite TV shows, movies, books, songs, and more.


Additional Capabilities
Boards

Boards allow you to place multiple notes on-screen at the same time. Each note in a board can be resized to any size you like and dragged and dropped where you like. This is a great way to view your most used notes or notes related to each other.



Sharing

Easily share notes with others by creating a sharing link. A share-specific URL will be generated and provided to you. Each link created is configured to allow either View or Edit access. You can then send this sharing link to the person you want to share access with to grant them the specified access to the note.



Text Messaging (SMS)

By validating your cellphone number you may enable texting for a note and append to a note simple by sending a text message to a certain telephone number. This allows for easy additions to note on-the-go. For instance you may want to simply send a text to quickly add items to your grocery list. Cellphone provider texting charges may apply.


Rich Text Editor
Headers
Bold
Italic
Strikethrough
Bullet Lists
Numbered Lists
Indenting
Alignment
Tables
Links
Horizontal Lines
Client-side Encryption
PRO
Enhance security & privacy
Encrypt notes on your device using a passphrase for maximum security & privacy. When enabled you will be prompted for your passphrase to decrypt notes on your device. Each time you make changes and save a note it will be encrypted on your device and only the fully encrypted data is sent to Typity servers. Your encryption passphrase is never transmitted off your device so the encrypted data cannot be accessed by anyone else without the passphrase.



Revision History
PRO
Go back in time

View or roll back to any save you ever made (even before you had Pro!) for any note. Every time you make changes and save a revision is archived in deep storage. With one click you can pull up a full listing of the entire history of any note and view its contents. One more click is all is takes to revert to a prior version. Change your mind? Just revert back to the prior version!
Text Messaging
PRO
Update notes with a text
Use text messaging (SMS) to append to your notes.
When enabled you'll be given a phone number you can add in your phone's contacts (eg as "Typity Shopping List"). Any time you send a text message to this number/contact the texting contents will be added to the note. This lets you easily jot things down to a note on the go without having to open an app or website.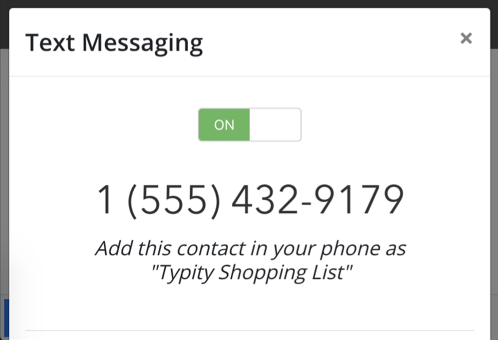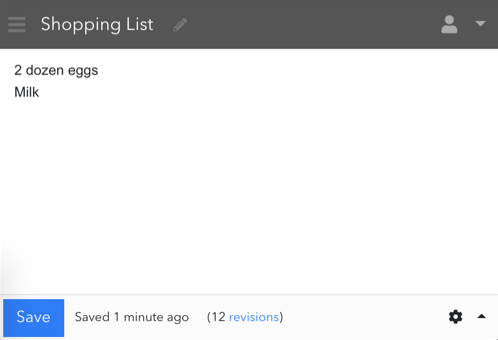 "It's easy and awesome!"
— Scott Brown, Entrepreneur
Deposit your thoughts
into Typity and take a load off your mind. Keep your thoughts organized and easily accessible with features such as nested categories, drag-and-drop organization, and multiple dashboards for viewing & editing sets of notes all at once. Our goal is to make organizing your life simpler.